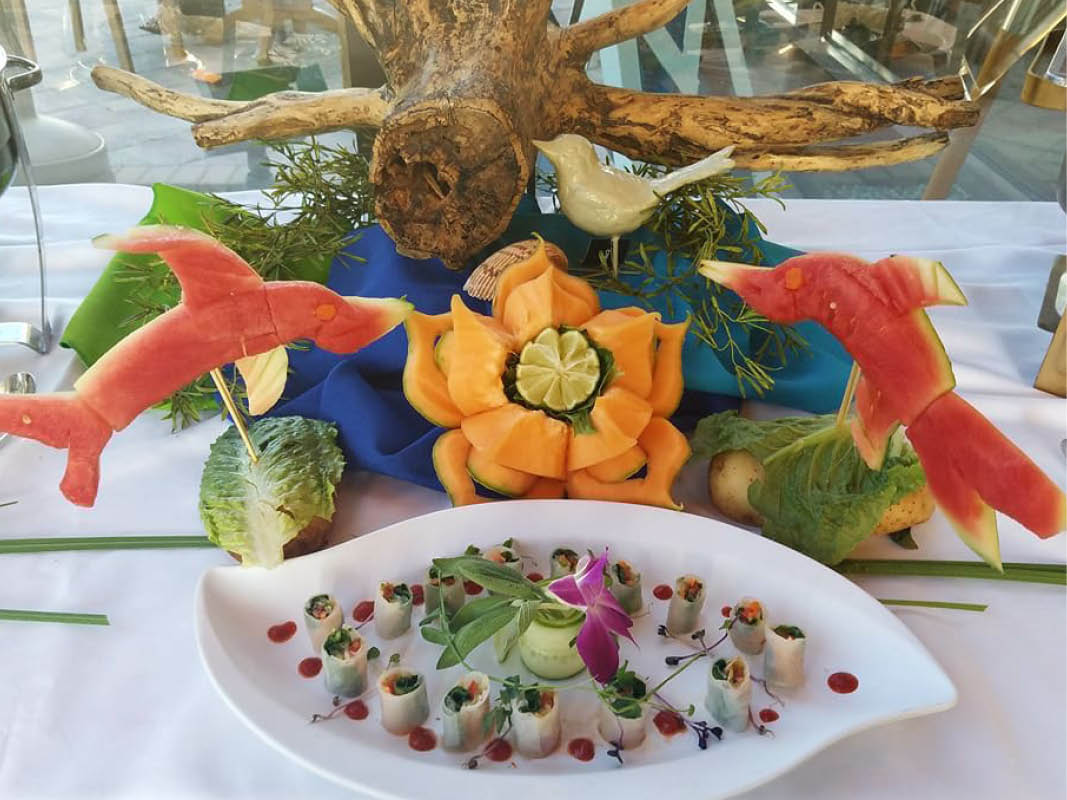 Bernwood Catering Co. is known and recognized for their Signature Display and Table Garnish Stations. Chef Ron and his staff take the time to give each event more than a list of the most sought-after presentations, they also provide an event visual experience with beautifully well crafted culinary display tables with signature displays and recipes—for any event, theme, menu, and budget both large and small. These items are merely recommendations for your Event. Each menu item is customizable to fit your specific needs and desires. It's our mission to meet and exceed your event expectations.
Click on Any Image Below to see a Larger Photo Slideshow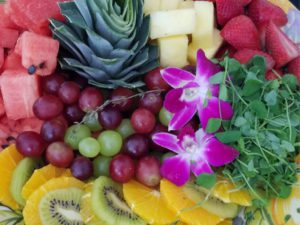 Small-Plates / Display Stations
• Tri-Mediterranean Display
Mirrored display of Bruschetta, Olive Tapenade, Hummus with Parmesan Pita Chips and Pesto Crostini – Bacon Spinach Dip
• Premium Mirrored Cheeses
Presenting World-class Cheeses, Fresh Fruits, Premium Meats and Roasted Vegetables – Garni
• Atlantic Smoked Salmon Mirror
Salmon, Capers, Red Onion, Hard Cooked Eggs, Garni
• Tequila Lime Cilantro Shrimp Display
• Southwest Quatro Display
House-made Chips and Salsa with Pico, Roasted Corn & Mango Black Bean Salsa,
 House-made Guacamole and Bacon Spinach Dip
• Fresh Tropical Fruit Mirrored Display or Bowl
• Tropical Fruit Skewer Display
• Assorted Appetizer Mirrored Displays or Trays
Select from Our "Mini Butler Appetizer Menu" for assortment options

Chef Attended Carving Stations
• Beef Tenderloin
Roasted, Sliced and served with Creamy Horsey Mustard Sauce, Olive Tomato pics, and House-made Parker Rolls
• Honey Pineapple Cherry Glazed Ham
Roasted, served with Parker House-made Rolls, Mustard, and Pickle
• Stuffed Pork Loin
Roasted, Sliced and served with an Apple and Merlot Reduction
• Seasoned Prime Rib
Roasted to perfection and served in a Mushroom Au Jus and Creamy Horsey Mustard Sauce
Chef Attended Made-To-Order Stations
• PASTA STATION
Create-Your-Own pasta ingredients from pasta, meats, seafood, sauces and fresh gourmet ingredients
• SOUTH OF THE BORDER STATION
Create-Your-Own Tacos, Salads, Fajitas, selection of Pollo, Carnita, Seafood, and Seasoned Steak with Salsas and Authentic Toppings
• OMELETTE STATION
Create-Your-Own Omelet ingredients selection of breakfast meats, sauces, cheeses and toppings
• BEAUREGARD'S HOMEMADE ICE CREAM CART
Belgian Yummies ice cream cart filled with premium Ice cream and toppings. Scooped and served at your event from a retro umbrella bicycle cart.
Dessert & Coffee Station
• Assorted Mini Desserts
Mini Crème Brûlée, Cookies, Brownies, Fruit Tortes and Fresh Fruit Garnish
• Assorted Fruit Pies, Key Lime Pies, and Wild Berry Crisps
with Fresh Whipped Cream
• Assorted Cheese Cake Presentation
with Fresh Berry Topping
• Coffee Station
Ice Sculptures
Custom-made ice sculptures will add a focal point to announce a theme or logo for your next party or event. We look forward to exceeding your expectations.
Celebratory Cakes
Our team of pastry chefs bake with the highest quality ingredients and are recognized for their sought-after creativity in Southwest Florida. Your satisfaction is our goal in baking a custom designed sheet or tiered cake and offering a delicious way to celebrate your achievements and events.
****These items are merely recommendations for your event. Each menu is customizable to fit your specific needs and desires. It's our mission to meet and exceed your event expectations.****